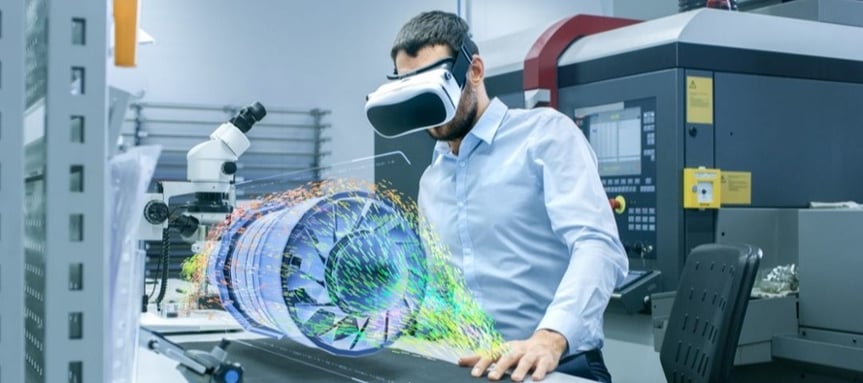 Virtual reality (VR) has come a long way since it was invented by Ivan Sutherland in the late '60s. This industry, which has a market size of over $15 billion, has now expanded beyond consumer use to make waves in everything from research and education to manufacturing and even aerospace applications. In particular, it's transforming manufacturing by streamlining the industrial design process.
VR is already being extensively used by engineers and architects across various industries, and it's got a boost during the pandemic. However, these additional benefits are convincing 43% of manufacturers that VR will enter the mainstream in even more businesses before the decade ends.
1. It enhances the design process
3D modeling in industrial design has been around for decades, with early solid modeling software in the works as far back as the late '70s. By the 1990s, 3D computer-aided design (CAD) entered the mainstream, streamlining the design process for users everywhere. Since then, 3D CAD has only become more user-friendly. It allows designers to more closely scrutinize prototypes before they're created, reducing room for error and significantly improving the quality of the end product. VR takes this a step further by making the design process more immersive. With VR headsets, designs can be explored in 3 dimensions, and hand movements allow users to more intuitively edit prototypes than with a computer program. This facilitates a more direct interaction with prototypes, so designers can better anticipate how the final product will turn out, as compared to simply clicking on a computer mouse.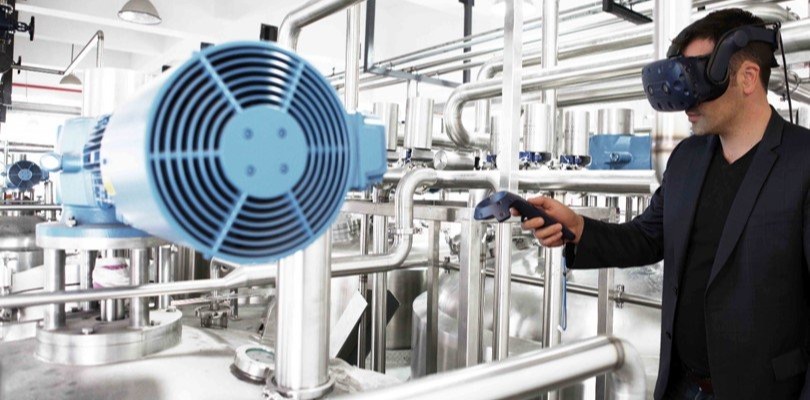 As we've previously discussed in our guide on VR headsets for industry use, these devices can record head movements and track a user's physical location to give freedom of movement in the VR space. Meanwhile, headsets like the Oculus Rift or HTC Vive can more accurately depict designs. Some even ditch controllers and track hand movements, allowing for smoother navigation and editing. By offering better design communication, prototypes can be created, reviewed, and approved faster than ever before. Design teams can even use VR to do so remotely, facilitating even better collaboration with experts from around the world.
2. It makes training more effective
In the same way that high-definition VR environments allow practicing designers to effectively create virtual prototypes, a VR software gives aspiring industrial designers an easy-to-use and immersive way of learning the ropes. VR modeling software is useful for on-the-job training, as it helps new employees visualize their designs, sketch and build upon them, and pitch them in a way that actively engages clients. It also allows educators to implement a wide array of workplace scenarios. This is especially useful in high-risk occupations like manufacturing and the military, making for fewer workplace incidents in the long run. Even field operators can be trained in just 2 hours to perform VR-powered tasks — like remote collaboration and maintenance — which can be done by comparing existing equipment with CAD models.
Training with VR headsets won't be uncomfortable or inconvenient, either. Wrist and ankle trackers, along with a computer that can be strapped on the back, work together with the headset to allow for a truly hands-free VR experience. This is thanks to Rigid flex PCBs, which pack more power into more uniquely-shaped headsets designed for comfort and longer use. This allows VR equipment to be lighter, perform wirelessly, and provide a higher quality of performance, making users more comfortable and less prone to motion sickness. It also helps VR manufacturers to cut down on costs, making headsets more affordable than ever. In the '90s, VR was too expensive to implement. Today, modern models like the Oculus Rift S cost as little as $399.
3. A VR software lowers operational costs

All these benefits can only result in lower operational costs for manufacturers. Taking on tech-savvy industrial designers, especially those proficient in the use of VR modeling software, means you don't have to train new hires in the technology once you bring them aboard. This in turn can enhance the benefits reaped from a more streamlined design process. Formulating, pitching, revising, and approving designs for manufacturing will only become quicker than ever as VR reduces opportunities for mistakes.
As a result of that lower margin for error, fewer materials will be used to create prototypes — and fewer prototypes will have to be made at all. Since a prototype can cost anywhere between $100 to upwards of $30,000 to produce, a significant amount of money can be saved here as well. Higher-quality products can then be released faster, allowing industries to reap a hefty ROI on their VR investment in a shorter amount of time. Overall, XR Today reports that adopting VR can speed up the design process by 10% and manufacturing of the product itself by 7%. The time your organization saves can then be used to focus on other areas of your operations, such as production and logistics.
Ultimately, VR offers more than just convenience. It can spur changes to help your company work more efficiently and productively moving forward. Many sectors have benefited from including virtual reality into their processes. Why not yours ?
Other blog posts that could interest you: