For machine tool manufacturers, Virtual Reality offers many important opportunities. Indeed, an increasing number of their customers have embraced the Smart Factory concept, in other words the use of advanced CAD systems as well as data-driven manufacturing. With this, the core of the tooling industry has shifted from simple machining technology to more sophisticated and advanced horizontal / vertical machining centers, Computer Numerical Control and multitasking part processing, making it an increasingly complex environment that Virtual Reality can help navigate.
In this article, we will see 4 important use cases of AR and VR that the tooling and machinery industry embrace the full potential of the Smart Factory:
Check operability and maintainability through Virtual Project reviews?
Bring customer presentations to a whole new level
Perform remote assistance through AR/VR
Train and attract talents
Of course, there are many other use cases that can be achieved through setting up VR inside your business. Check out our complete guide of VR for business for more information.
Virtual project reviews for machine tools industrials
To increase their competitive advantage, many machine tools industrials turn to Virtual Reality to improve their processes and make faster and more accurate decisions. Indeed, scale 1:1, fully immersive presentations reviews allow them to offer better and safer solutions to their customers. They get a better insight of what a production line will look like and how it will be operated. With VR, they can check every single step of the manufacturing line, remove any piece of the machine, and replace it by another. Thus, they are able to check operability and maintainability from the earliest steps of the product lifecycle management.
The common goals of these reviews are to manage risk assessment while ensuring adequate safety for the workers. Engineers can discuss all critical topics using VR, enhancing collaboration, reducing risks of errors and improving processes quality. Besides reducing development times by as much as 20%, VR assists machinery and tooling industrials in understanding in detail their clients' supply chain in their specific industry and eventually deliver a better-quality product.
Customer presentation in virtual reality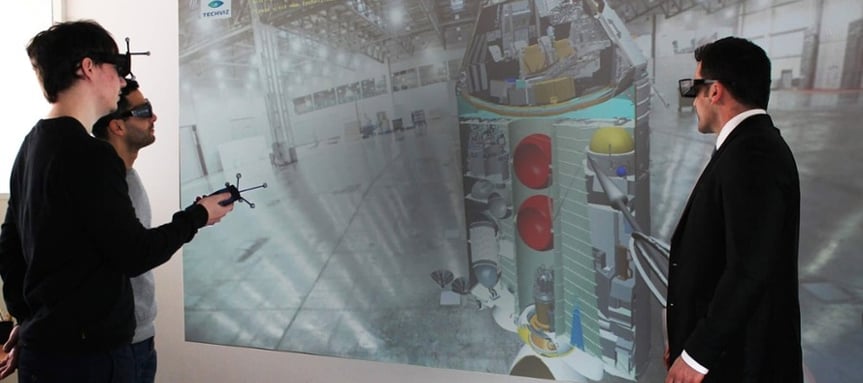 Each production line is different, and every single machine can often be different. In this context, giving a customer a flavor of the final product can be a challenge, whether during a commercial meeting or in trade shows.
Using Virtual Reality, this challenge can be overcome quite easily. Solutions such as TechViz enable to display CAD data in VR without any data conversion. The display can be a simple headset, easy to transport for a customer meeting or a "Powerwall", i.e. an immersive screen for Virtual Reality to be used in trade shows.
Using this technology, sales persons and pre-sales engineers can literally walk their prospects through the product and show in details their specificities. It has been shown in multiple studies that showing bring about much better understanding outcomes than explaining, so VR sessions with customers multiply the efficiency of the meeting. It is even possible to show how the machine integrates in situ, by merging data from different CAD applications.
VR remote assistance
Supply chains are now global. Downtime on a line in a single factory can disrupt the production downstream in multiple manufacturing lines. In case of an incident or even regular maintenance, reducing the downtime often becomes the single most important objective.
AR and VR can be a game-changer for this. Thanks to VR collaboration tools such as Cloud&Viz from TechViz, the machine supplier can guide his customer through the CAD data to pinpoint where the incident comes from and how to fix it efficiently
Here is a schematic of how Christian, a support technician at a machine supplier in Germany can support his client, Miho, to solve an incident on a machine used in a factory in Japan: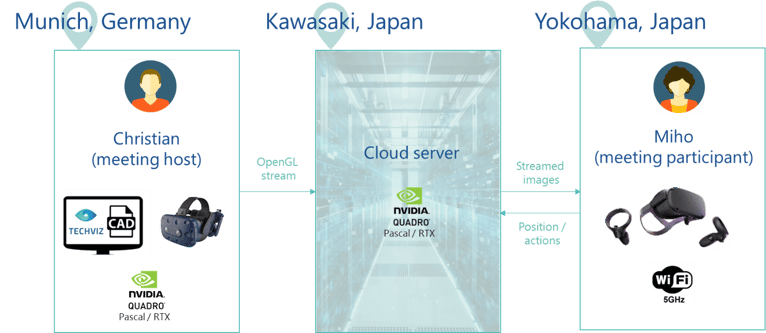 Training in virtual reality
The interactive aspects of VR make it an ideal platform for machine training. Indeed, VR holds the promise of realistic training experiences minus the need for access to an actual machine. It creates an environment in which participants learn to operate and maintain a machine, all in a completely safe virtual world. Participants are able to log in to specific structured training opportunities, take an introductory or a refresher course, and practice hands-on skills, all with graded feedback that helps them assess their progress.

Additionally, it generates immediate enthusiasm for the manufacturing world in younger people. In industries facing skilled labor shortages, factories welcome any development that both attracts young people to manufacturing and makes training easier and faster. Some companies have even started to expand their use of VR training as a way to invite current high school students to reevaluate their impressions of manufacturing careers and see firsthand how the field continues to advance. The technology holds immense promise as a means of attracting new talent to industries that desperately needs it.
Want to know more about professional VR? Check-out our other articles about the evolution of virtual and augmented reality, and how it could benefit your business: