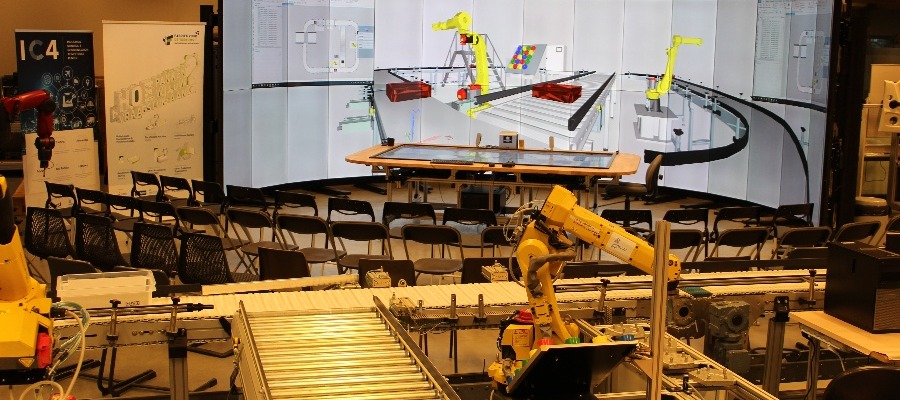 "Digital twin" is very trendy expression, but what it covers is sometimes unclear. This popular innovation receives lots of interest from the industry and promises to boost productivity at al levels of the value chain. Why? Because it pushes back the boundaries of the virtual prototypes, allowing engineers to apprehend the product or system inside their environment. This goal can only be achieved through a VR software, in order to visualize the product in the in-service stage, and supplement the 3D model with simulation data.
TABLE OF CONTENTS:
The origin of the digital twin
According to Gartner research and advisory company, it is defined as "a software design pattern that represents a physical object with the objective of understanding the asset's state, responding to changes, improving business operations and adding value". Gartner adds the digital twins are entering mainstream use, predicting that by 2022 over two-thirds of companies that have implemented IoT will have deployed at least one digital twin in production.
Like many engineering innovations, the concept of Digital Twin originally comes from the space industry. The phrase itself was first coined by John Vickers of NASA in 2002. Before then, NASA was retaining a physical mirrored system of satellites and modules sent in space, in order to allow engineers and astronauts to be in sync for maintenance operations. Technological capabilities and a desire to reduce cost have led to the adoption of VR twins of space assets instead of physical ones.
Digital Twins and VR
As we can see, the original goal of the virtual twin was to replicate the condition of an asset that could not be easily accessed, in order to test the best way to perform an operation. The only way to serve this goal for the Digital Twin is actually through VR.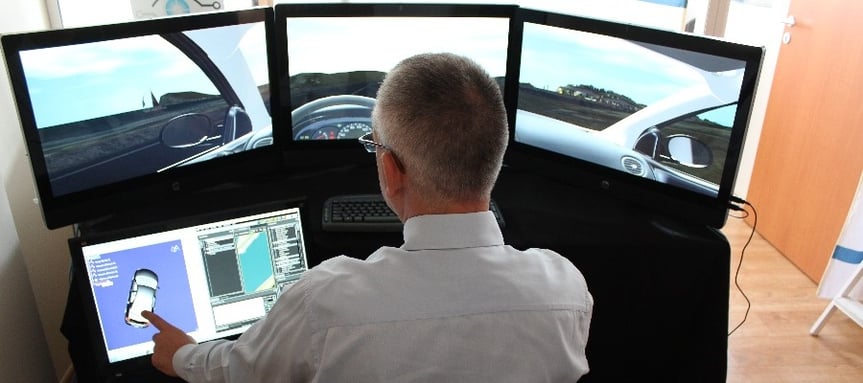 Virtual reality for business mostly consists in visualizing and interacting with CAD models in a three dimensional world generated by computer graphics. Indeed, future space modules -as well as more commonly found automobiles- can be displayed in VR and thoroughly tested for operability and maintenance from the very early stages of the project. For instance, TechViz software can display in real-time a car model designed in a CAD application such as CATIA and merge it with a driving simulator in order to check visibility and accessibility of the commands in many different conditions.
Beyond the development of products, viewing the Digital Twin in VR also helps construction projects or manufacturing units. As Professor Ben Hicks from the University of Bristol puts it, the key is the "concept of continuous or periodic 'twinning' of the digital to the physical". Actual construction of a building or an assembly line always deviates from the planned models. These slight deviations are not necessarily an issue, but updating the VR twin and making a project review in VR makes it possible to check and eliminate nefarious consequences. For instance, if some pipework ends up with an offset of 5 centimeters compared to the plan, it can block the correct opening of a door. Testing the Digital Twin in VR at every stage is probably the only way to ensure this does not happen.
The Digital Twin at Ghent University
As companies adopt the Digital Twin at a very fast pace, universities are also turning to the concept, to teach their student and to foster innovation and research. The Ghent University in Belgium is amongst them. Founded in 1817, it is recognized as an international top player in engineering research. It is home to the Tech Lane Ghent Science Park that offers design and build opportunities office and laboratory space, enabling high tech companies, corporate R&D centers or research institutes to have infrastructure built according to their specific needs. Within the university, the Industrial Systems Engineering (ISyE) research group performs research into design, optimization and validation of flexible assembly systems based on virtual twins.
Last year, Ghent University upgraded its Lab with a "Digital Twin Control Room" enabling the use of VR for manufacturing to any local company, who cancome with their own data and visualize their model on a digital wall.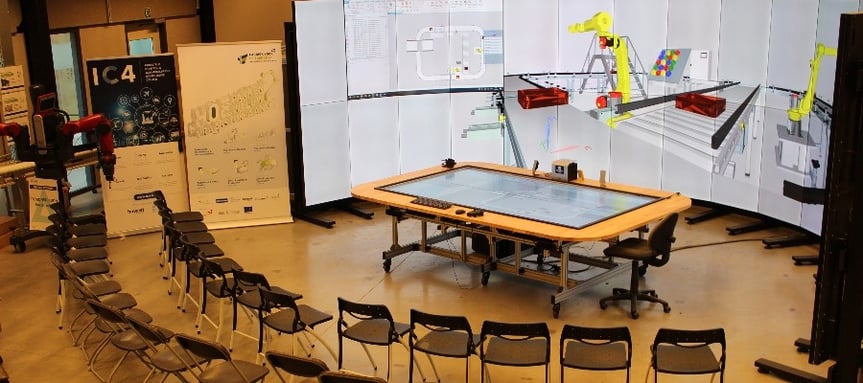 This innovative installation consists of 32 modular LCD screens from Barco, displayed in a 180° curve, operated by 4 HP render computers with powerful Nvidia P5000 graphic cards, a master computer using a RTX5000 graphic card connected to a digital control table, and a gamepad to navigate through the model. To ensure the immersion inside the model, the point of view changes every 4 screens, so users keep on feeling part of the virtual environment wherever they stand. Ghent University chose TechViz as a universal solution software, to visualize instantly any 3D model from any CAD application. Compatible with this unique set up, TechViz is able to display the data in real-time, without data conversion and has a high frame rate on large 3D models without degradation of quality.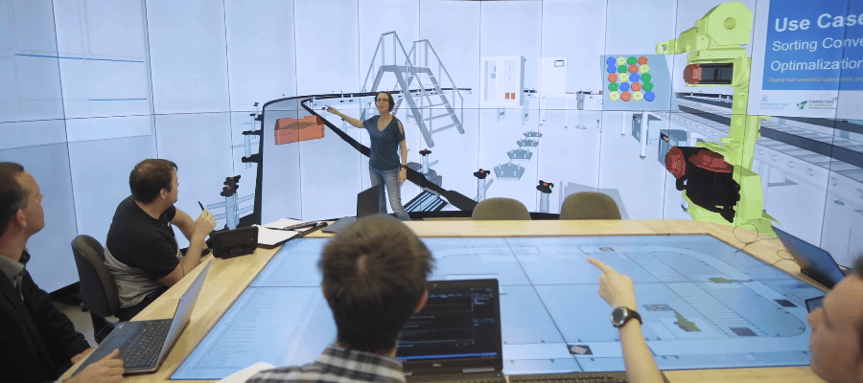 The pairing of Digital Twin and VR enables companies to sit around the table and have social interactions with people from engineering, marketing, planning, operations or even customers and be able to hold a meeting about an engineering project, without spending money to build this kind of infrastructure. They just come to the Lab, load their model easily, TechViz displays it immediately on the screens and they can proceed on exploring an entire engineering project and assessing optimizations. The software also supports external interaction devices such as animations or simulation processes, that can be played and watched instantly.
In order to demonstrate this peculiar infrastructure, they have set a physical assembly line with conveyor belt and robots in the room which is completely modeled into the virtual world as well. Both physical and virtual models are connected to work simultaneously together and is controlled from the digital table.
The Digital Twin in VR allows people to interact with a model, discuss and operate changes and is a real key benefit for companies. It saves time, money and contribute to a better understanding of the project.
More articles about reviewing a project in virtual reality: