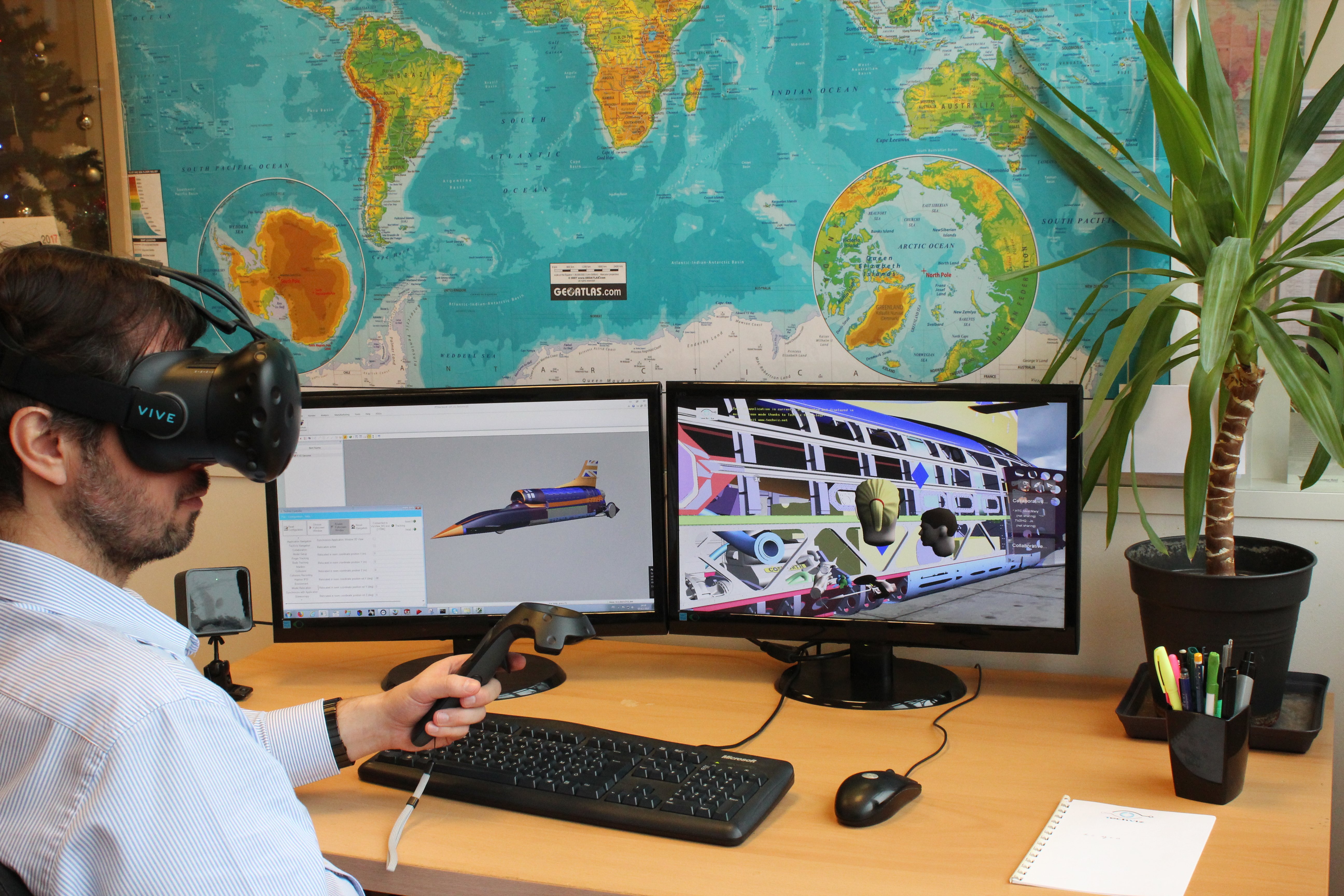 Developing and manufacturing a product is a long and costly process, which often requires the continuous participation of several departments, or even different suppliers. Through all the development stages, from getting the idea to selling your product, there is a need for consistent information and communication while designing, engineering, marketing and manufacturing your products. This is where 3D visualization comes in, from Solidworks models to Techviz VR system.
TABLE OF CONTENTS:
While most companies already work with CAD models, using VR technology will facilitate product review and maximize the collaboration between colleagues and partners. This article describes the benefits of adding Techviz software to complement your current use of SolidWorks, by reviewing your CAD models in virtual reality, enabling you to navigate inside the 3D model in 1:1 scale and easily making changes in real time.
Reviewing CAD models in virtual reality improves your process from design to manufacturing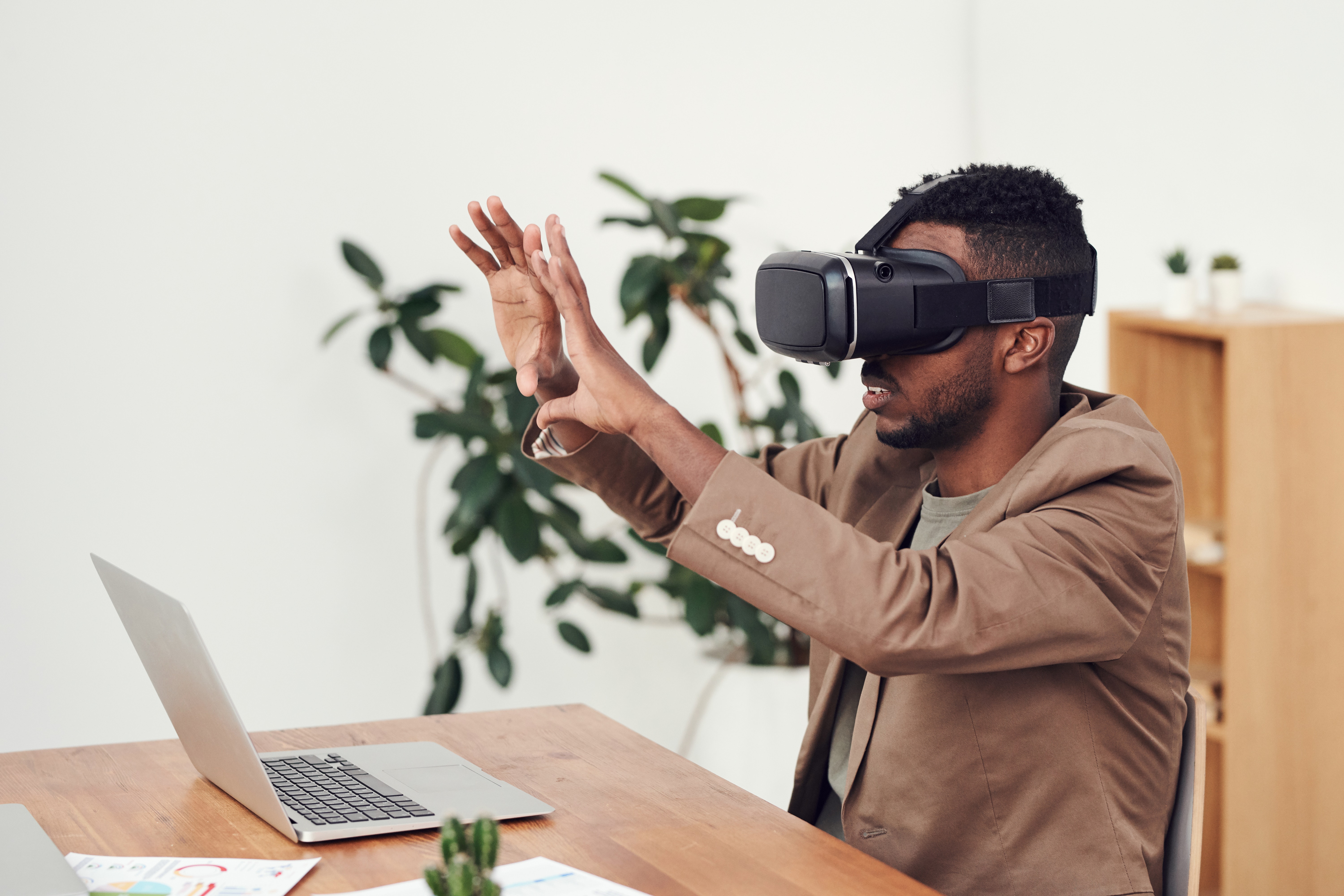 Why SolidWorks and TechViz software complement one another
The most important aspect of collaboration is to unite the different department and suppliers working on the same project. There's a need to be efficient, cost-driven, and end with a high-quality product. SolidWorks and Techviz software allow you to speed-up your development process by working on the same CAD models in virtual reality, enabling teams to:
Work concurrently on different steps of the design-to-manufacturing process
Collaborate earlier on the project to detect and correct mistakes, and avoid costly rework
Immediately noting the changes made by the other teams on the common 3D model
SolidWorks is a computer-aided design (CAD) and computer-aided engineering (CAE) computer program published by Dassault Systèmes, that primarily runs on Microsoft Windows. It is mostly used for solid modeling, which allows several difficult engineering calculations during the design process and adds features like machining surfaces or some manufacturing processes.
Companies that already masters CAD technologies, and have already implemented SolidWorks into their process might wonder about the use of VR models in product development. Beyond what can be done with eDrawings, TechViz 3D visualization software is a fundamental step towards building even better design-to-manufacturing process. Having 3D models on a screen of one of your engineers is one thing, but getting the model in full size and being able to navigate it freely will enable all your departments to use the CAD models in virtual reality on a day to day basis, with a complete suite of advanced functionalities, like the sequencing of operations.
Why you should add Techviz software to your process
With Techviz software, companies can instantly use their data set without conversion, and maximize the use of their SolidWorks 3D model. TechViz users can open and view native SolidWorks projects with any HMD (like HTC Vive or Oculus Rift), CAVE system or 3D screen. Companies can keep using their usual 3D software while intuitively interacting with the VR model, enabling them to test changes on the fly, and dynamically enable a compromise between the design and engineering teams.
How to enhance your use of CAD models in virtual reality with TechViz software
VR systems are not just a way to showcase your products to your clients. Your company is probably using SolidWorks models at several stages of designing and engineering your products. Why not bettering your process even further?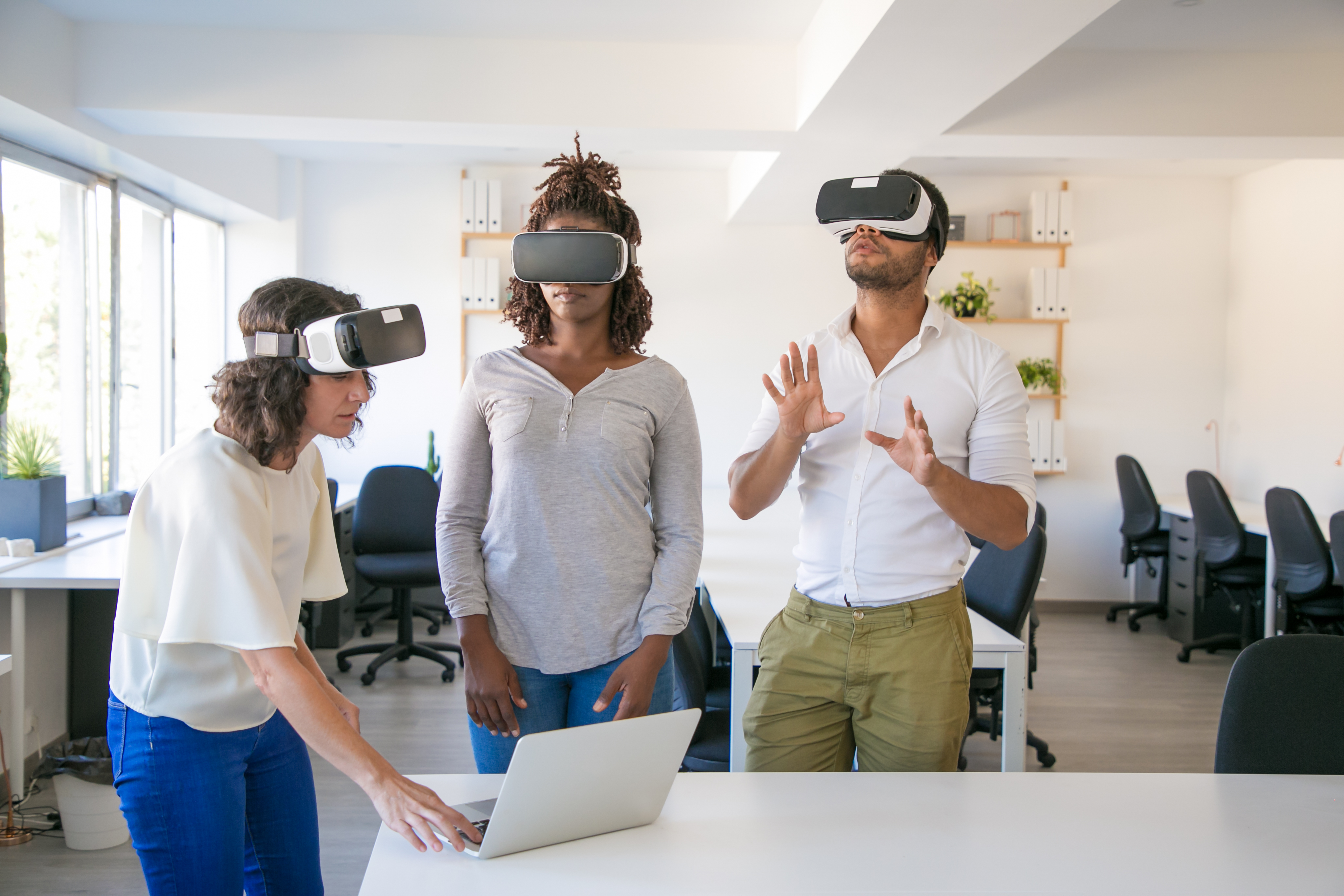 Enhance your design and engineering reviews
When you review your prototype, the Digital Mock Up feature offers different tools to improve your team's interaction with the CAD models in virtual reality. Engineers are often used to do things in the physical world, and with TechViz interface you can just walk up to the model during a design review and navigate to the parts you want, take notes or pictures, or hide specific parts of you model. Several Techviz customers noted that it made a great difference in terms of performance, especially with large CAD models.
For example, during an engineering or design review process, you can easily cut planes of your SolidWorks model to take precise measurements of your elements and see if the new components you want to include will fit and function appropriately. Every team, even non-specialists, can show their challenges easily by sketching or taking annotations thanks to TechViz user-friendly interface.
Collaborate from different work places
Your engineering team, designing department and production sites might not always be located inside the same building – you could also be in different countries. Techviz VR collavoration software enables you to share the same VR workspace and discuss the same virtual prototype, from different places, and even on different VR display systems (HMD, 3D screen, immersive room). It gives you a common context for your vr design reviews. Plus, all the participants can point at specific objects, take measures or add comments to clarify the information.
Imagine that your engineers could explain directly to your production department how they envisioned your product while showing them the critical parts from any perspective. There will be no need to send several emails with the 3D model, several explanations and a copious number of screenshots.
Simulate physical interactions when assembling or dismantling equipment
Simulation is an important area of application of VR in your business process, especially at the junction from CAD to CAM, for the simulation of assembling or dismantling equipment. Think of your CAD models in virtual reality as a 3D puzzle. How would your teams take the outer pieces to get to your motors and repair it? TechViz Virtual Assembly option works directly with your 3D application to see collisions and study the path for maintenance operations. Thanks to VR finger and body tracking, your teams will also be able to test precise reach and ergonomics.
You can also display your prototype in a realistic environment with a 3D scenario and validate your engineering choices. It is particularly useful if you need to check if the workstation is ergonomically designed, and if the commands are manually accessible.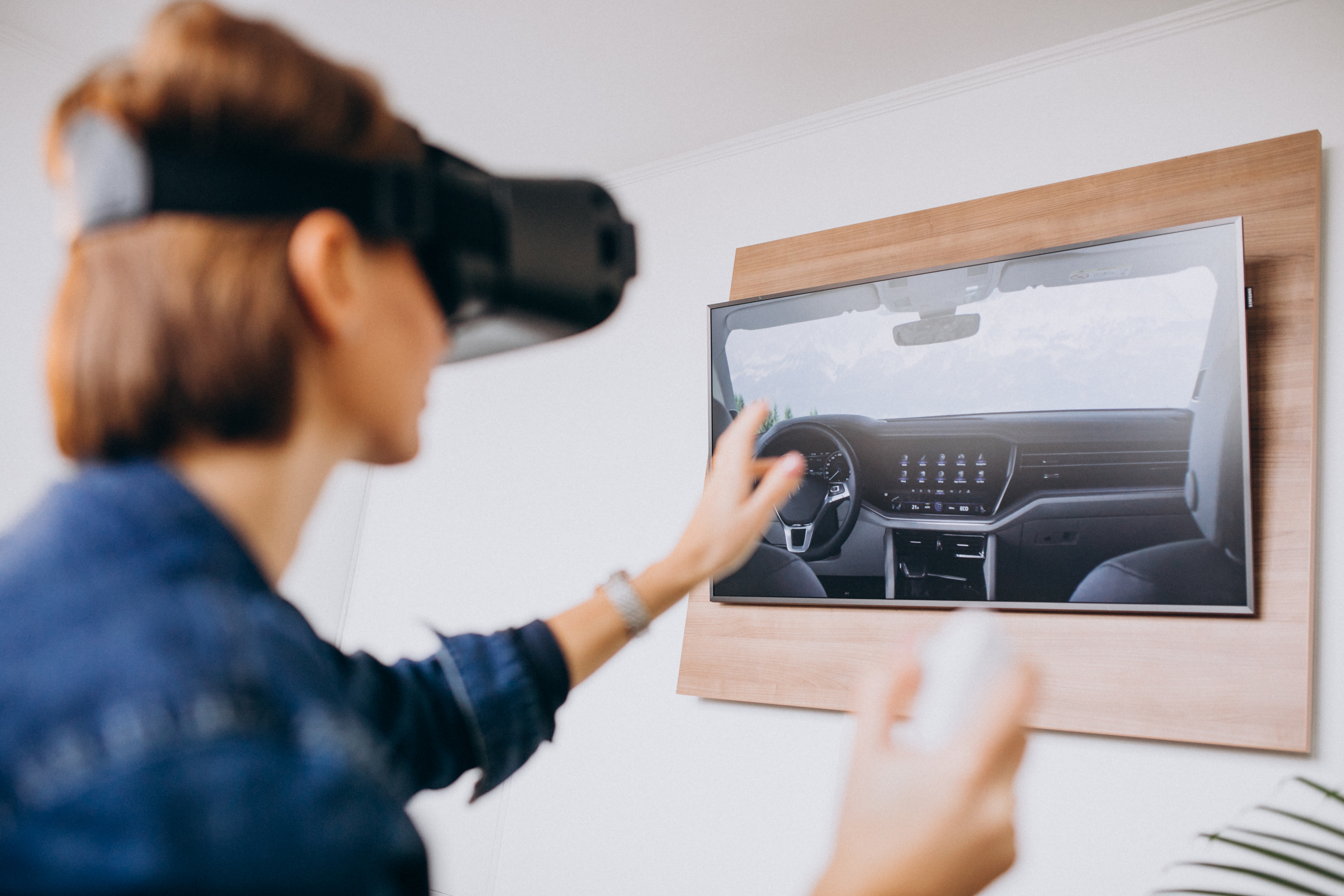 Complement SolidWorks models with another 3D software
SolidWorks is mainly a CAD/CAE software and might need to be completed by other modules such as a CAM (computer-aided manufacturing) or a PLM (product lifecycle management). With Techviz Fusion option, you can merge the data from separate 3D applications, allowing you to visualize the results from the different software in the same VR environment, without any data conversion needed.
For example, if you use a 3D scanning system on your production process to check the quality of your final products, you will be able to see whether the scanned products comply with your SolidWorks 3D Model.
Here's another example. Let's say your company provides spare parts for building equipment. You want to make sure they will fit into your client's model, and resist stress. The CAD model can simulate lifelike materials to avoid costly trial builds, and Techviz VR environment can provide accurate stress-testing. And if your client has a model with the complete equipment, you can fuse your SolidWorks model and his CAD model to go over any final details, even if he doesn't use the same software.
More articles about reviewing a project in virtual reality: