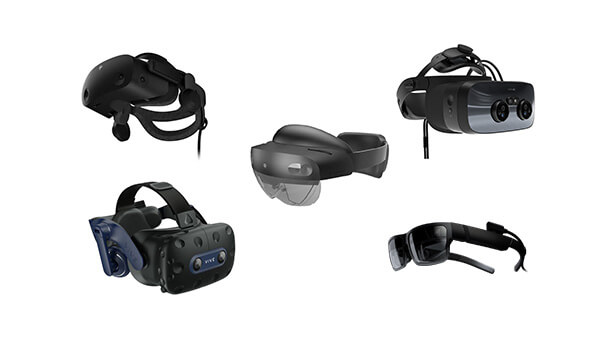 Here's the 2022 review TechViz team experts carry out every year to help you choose the best XR headsets for professional use. There are indeed many types of XR headsets around: tethered, all-in-one, Virtual Reality, Augmented Reality, Mixed Reality… It can be confusing, especially when manufacturers use their own terminology.
The choice of the best XR headset for your business mostly depends on your use case. Some companies have very specific needs while others want to be versatile. Depending on how you want to use XR in your business, your entire system can be tailored to your needs: processing power, screen resolution, storage… This does not mean you cannot use the other headsets, but rather that they focus on more specific use cases.
While waiting for the release of the Meta Quest Pro and a possible Apple headset (that will definitely join our 2023 selection for best engineering headsets), here are the top AR/VR headsets for 2022.
What are the Top 5 VR headsets for engineers in 2022?
We have shortlisted best AR/VR headsets for engineers in 2022 by using our own brand of tests using TechViz augmented and virtual reality software. Our choice of headsets revolves mostly around tethered and standalone headsets. Tethered headsets require a constant connection to a powerful PC, while standalone do not. Both are great if you want to include external sensors to track the user's movements in your XR system. More information about the use of VR in the industry.
1.
HTC VIVE Pro 2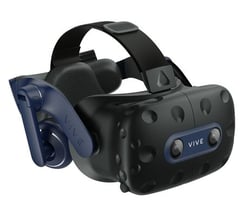 The HTC Vive Pro 2 is a premium VR headset that scales with your business and offers the best experience in virtual reality. It also provides lots of features for professional use.
Pros: This HMD offers boosted resolution and refresh rates. The audio is also top notch. Very comfortable, it is suitable for long use. The tracking is one of the best you can get with just a headset. The Vive Pro 2 also blocks the light better than the other VIVE systems (great for immersion). For safety precautions, the software generates a virtual outline of its environment to prevent users from bumping into walls or furniture
Cons: You will need a powerful PC to work with the headset at the best of its capabilities. The box does not include a wireless support, although you can buy a wireless adapter for $400. If your use cases require precision, you will need an external tracking system (up to 16 cameras).
2.
Meta Quest 2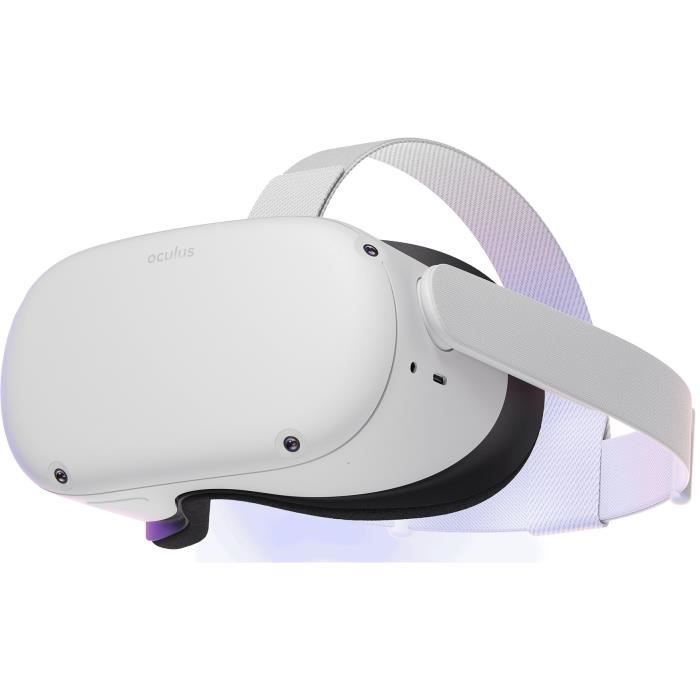 Meta Quest 2 is a standalone headset created by pioneers in VR (Oculus first Kickstarter was in 2012). Previous known as the Oculus Quest 2, the headset changed its name following Facebook rebranding to Meta.
Pros: Compared to its predecessors, Quest 2 has evolved in lots of little ways. It's an excellent standalone VR headset, that is comfortable over time (even with glasses). You can also use the Meta Quest 2 as a tethered headset, by connecting it to a PC via the Oculus Link or a third party UCB-C Cable. This allows the headset to be used to run content from SteamVR and the desktop Oculus store.
Cons: Because the headset is operated by Meta, an account (Facebook or Oculus) is required for use, as well as the Oculus software download (16GB). It's quite a bit of storage required, especially when the basic version only has 128GB available. The controllers are not very ergonomic, and some precise manipulations can be difficult.
Let's see in 2023 what Meta Quest 3 has in store for us in terms of performances!
3.
Varjo XR-3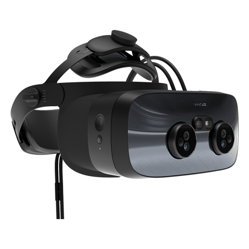 The latest headset from Varjo to date is the Varjo XR-3. As always, the resolution is the best on the market (9.7-megapixel compared to 6-megapixel for Vive Pro 2), and the field of view has increased drastically, reaching now 115°. The mixed reality technologies embedded into this product makes it a versatile player in the world of augmented reality.
Pros: The screen resolution is one of the best you can get to the market. The angular disposition of screens makes the resolution as close as possible to a pair of eyes. Focus area allows you to read texts and see details with no difficulty. Also, if you encounter issues, Varjo's support is very fast (2-3 hours during business days).
Cons: The headset requires a high-end GPU to properly run. It also has a lot of cables compared to the Vive pro (8 cables and 2 link boxes). This HMD is the most expensive of our test, and even though the investment is worth it, it can represent too big of an investment. If you need to track movement for your use case, tracking cameras must be bought separately.
4.
HP Reverb G2
HP Reverb G2 offers some high-end specs that help him stand out among the competition. It is a mid-market product with a good balance of price and hardware. It is also very convenient thanks the Windows Mixed Reality elements, easy controls, and a comfortable fit.
Pros: For a mid-market product, screen resolution is very good. The headset is easy to setup and plug and includes tracking cameras. However, the motion tracking system will lack precision compared to competitors.
Cons: If the hardware setup is simple, it might not be the case for the software setup. Plus, you must consider that Windows Mixed Reality platform has a limited number of applications. Also, the controllers need batteries.
5.
HTC VIVE Focus 3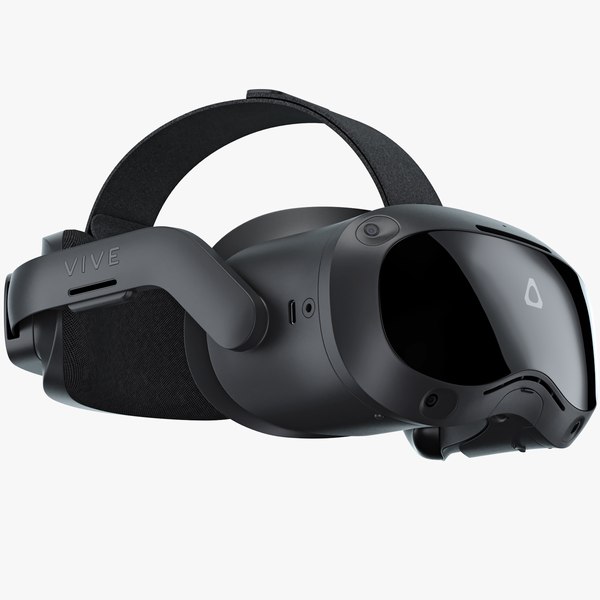 The VIVE Focus 3 is one of the best standalone headsets on the market. This headset has almost everything we'd like to see in a high-end enterprise device. It's the ideal HMD if you're looking for a headset and a full enterprise suite of solutions that comes with a price.
Pros: This device offers the widest FOV you can find in a standalone HMD. Additionally, the headset features a swappable battery system with an external charge indicator and fast-charging feature. You will always be able to tell when your battery needs a refill, and how full it is.
Cons: The headset is one of the heaviest we tested (785g). It makes it hard to use in the long-term as it does not have a counterweight like Varjo XR 3. The storage in the headset is only 128GB, but you can improve it by adding a MicroSD Card.
Compare our Top 5 VR headsets for pc
As you read earlier, choosing the best VR headset for your company can be quite complicated. Here are the main product specifications you can use to narrow your choice: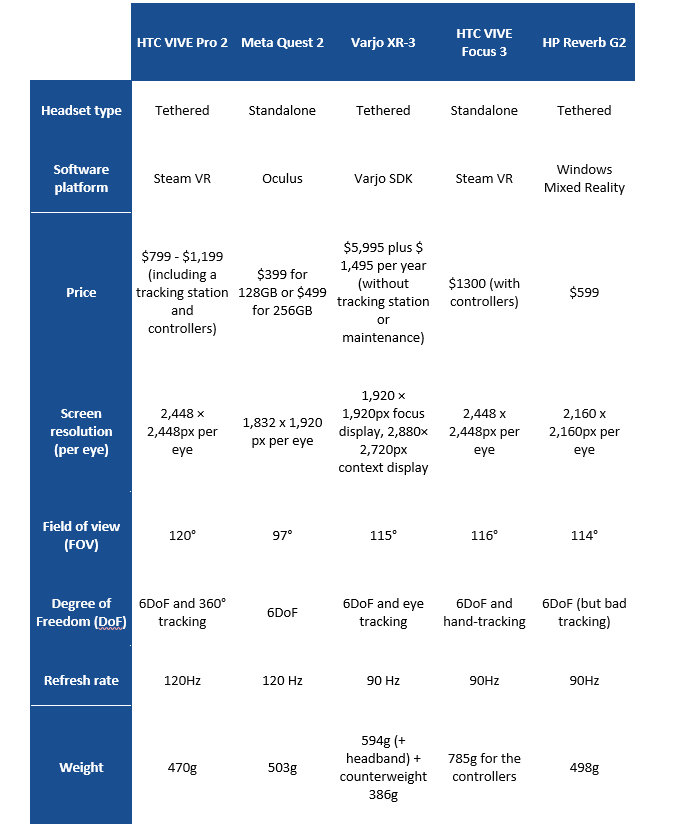 What are the best AR headsets for engineers in 2022?
Although both Augmented Reality and Virtual Reality are visualization technologies, they will be used for different use cases. Augmented Reality layers virtual objects and/or 3D information generated by a computer on top of the real world. Which means AR is not as immersive as VR: you can still see the physical bodies of your coworkers while viewing your CAD model. It's a great advantage for collaborating on the same 3D model.
Depending on your use case, AR or VR will be more appropriate.
1.
Lenovo ThinkReality A3 Smart Glasses
The ThinkReality A3 Smart Glasses offers a whole new AR experience. It offers smart technologies like 3D visualization, five virtual displays, and room-accurate tracking, and more.
Pros: the glasses are very light, and adequate for a daily use. It does not take much space, so you can carry everywhere. The lens and frame of the device can be customized according to your needs (prescription and tint of the lenses for example). The software on the Virtual Desktop works well and offer a seamless AR experience
Cons: The field of view (FOV) can be too small for some use cases (imagine that the FOV is about the size of your extended eyes). It can be challenging when you try to read text while keeping the entire monitor in your field of view. Also, the environment inside the glasses is quite dark (the tint of the glasses is severe), and it will be hard to view your existing monitor while wearing the Smart Glasses.
2.
Microsoft HoloLens 2
The HoloLens 2 is considered one of the best augmented reality headset in the market. It's a very elegant device, made with high-quality materials, that looks perfect for enterprise setting.
Pros: The tracking is excellent which offers great interactions between real and virtual elements. When you want to pause, you can comfortably prop the headset on your forehead thanks to the padding. While using the devices, you can access all the Microsoft Azure suite and its related service: cloud storage, remote rendering, artificial intelligence…
Cons: For a device of this price range, it is disappointing to still experience a glare or halo effect when putting it on. You will also probably experience bugs with the OS (another frustration). The headset also lacks a demo that gives a "wow effect" (hard to show the HMD to your boss and ask for funds for an AR project).
Compare our Best pc-powered AR headsets for engineers
choosing the best AR headset for your company can be quite complicated. Here are the main product specifications you can use to narrow your choice: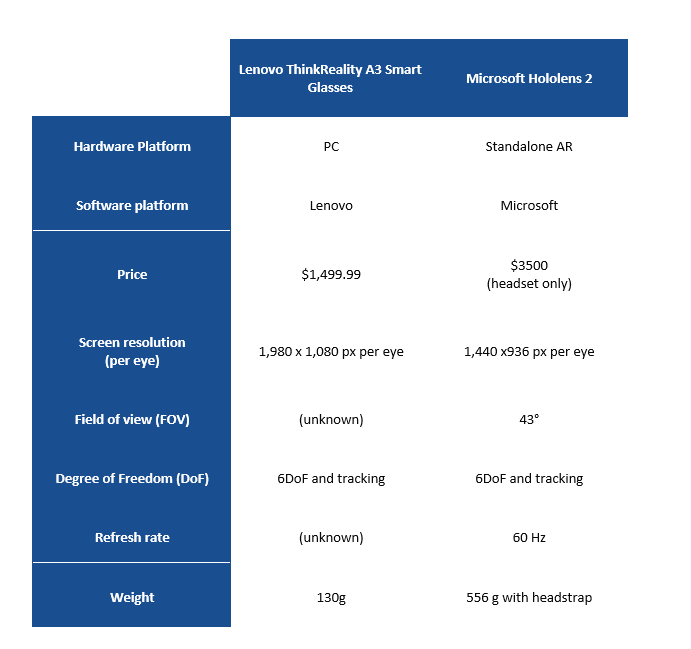 If you have any questions regarding how to use VR in your company, feel free to consult our Complete Guide of VR for businesses. And if you need more information about which head mounted device is better for your use case in terms of hardware, screen resolution, refresh rate, field-of-view or degree of freedom), our teams would be more than happy to help.
Keep reading on VR for engineers: