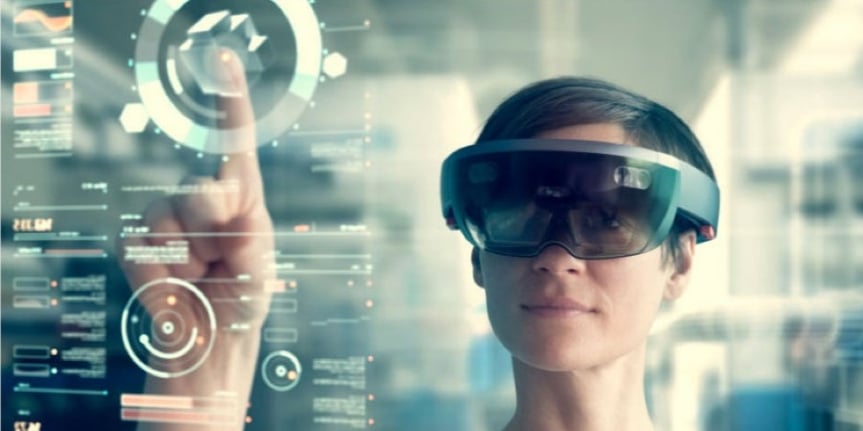 Augmented Reality has appeared in many of our daily uses, at a personal and professional level. We've come a long way since phone games like Pokemon Go in 2016. AR is not a passing trend. Especially in business. Adding a layer of information to the reality we experience offers many use cases in a wide variety of sectors: automotive industry, aerospace, healthcare, education, construction…
According to Deloitte, 88% of medium-sized businesses are already using or testing AR for purposes such as assisting product development, fostering collaboration and bettering training. Now would be a great time to invest in this technology, as the Augmented Reality Market is estimated to exceed $50 billion by 2024 (Global Market Insights). Looking for ideas to integrate AR in your process? Check out our top 3 use cases for AR in business and TechViz software.
1. Offering a better work experience for 3D data visualization
It's not always simple to work on complex data with VR headsets. Whenever you have to jump from the real world to the virtual environment, it always takes time to get acquainted with it. Your brain needs a time to get used to its new surroundings. And it's not just about taking a stroll there, but analyzing complex data like :
Visualizing fluid moves

Designing vehicles

Controlling product quality with laser scanning and point cloud.
This is where AR comes in. Augmented Reality is great for data visualization. It allows the users to experience the 3D data in different viewpoints. It helps them find new trends and patterns in the information that may not be immediately visible. Also, AR glasses offer a more comfortable work experience than VR headsets over time, as they bridge the gap between the virtual and real world. No more tiring jump between realities!
Understanding the data is a key to today's data-driven business ecosystem. For example, some of our clients use TechViz' Digital Mock-up feature to interact with their 3D model in augmented reality. It helps them combine the CAD model of a car with a simulation of wind forces.
2. Collaborating in AR in the same space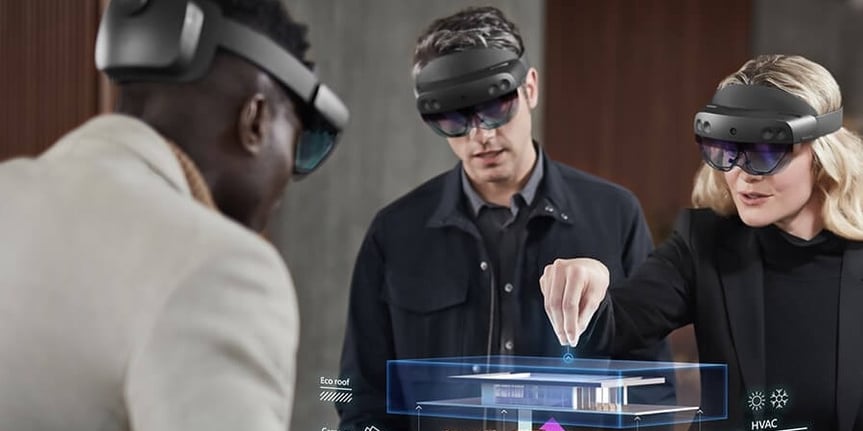 VR headsets can be used for collaboration use cases. However, each worker is fully immersed in the virtual world, and loses contact with the real world. Collaborating within the same physical space does not make sense. What they share is a virtual space. This can cause several issues. For instance, you might be able to interact freely with the CAD model in VR but end up bumping on coworkers doing the same thing in the same room.
Another disadvantage of VR in this use case is the physical immersion. As the users are fully immerse in the virtual world, they can't switch easily from one environment to the other. Which can make meetings a bit awkward, as all participants might not be experiencing the same reality at the same time.
Wearing AR glasses makes collaboration in the same physical space easier. Being able to see your real body while experiencing AR is less intrusive and disorienting for users and reduces the risk of negative side effects. First, you will avoid running into physical obstacles (or colleagues!). Second, you can switch seamlessly from their CAD desktop application to a 1:1 scale 3D representation of your 3D model.
The engineers and designers can go back and forth from the CAD software to the 3D simulation, while still interacting with the other stakeholders in the meeting. With an AR headset, you get all the perks AR/VR collaboration without the difficulty of having some participants fully immersed in VR. That way, you can keep the meeting running, while experiencing the best of both worlds.
3. Having a 100% mobile solution for distant collaboration
Without a PC or a Mac with enough rendering power, you won't be able to use AR/VR for professional use. At least, that's how it has been until Cloud VR changed everything, by allowing most of the computing operation to happen in the cloud. Cloud&Viz is TechViz cloud platform that enables instant streaming of your CAD content.
The people sharing the virtual experience with you don't need a CAD software or high-end computing power. They can interact with the virtual objects wearing AR glasses and using a smartphone supporting AR applications. With this remote collaboration platform, you can enjoy a 100% solution for distant collaboration. You can use it from anywhere: from home, in the production factory or in the field.
Cloud&Viz enables your teams to get faster and more productive during their distant collaboration. Only the person hosting the meeting needs to open the 3D model in your native CAD application and then run TechViz software. The model is never uploaded or downloaded on any machine, just streamed. Our software is compatible with 200+ CAD applications like CATIA, PTC Creo, Autodesk Navisworks…
Why our clients chose TechViz for their AR use cases
Augmented and virtual technologies have really changed the way we worked. Most of the top companies have included reality devices in their process, from the conception processes to product launch. There are many use cases for AR in business. TechViz is a software build by engineers for engineers. It can display any CAD model on any type of AR/VR system in 1:1 scale, enabling the users to be fully immersed in their native 3D data and make real-time changes.
To better our clients's experience with Augmented Reality, we recently partnered with Lenovo. Running TechViz software on Lenovo ThinkReality A3 changes the way designers, engineers and architects interact with their CAD models. Instead of working separately on their 3D application, and then visualize the results in an HMD, they can seamlessly jump from one environment to the other.
It will work directly with your current CAD model. There is no need to convert your CAD data into another format or simplify your model. With just a move of your head, you can jump from the CAD model to its 3D representation.
Other blog posts that could interest you: