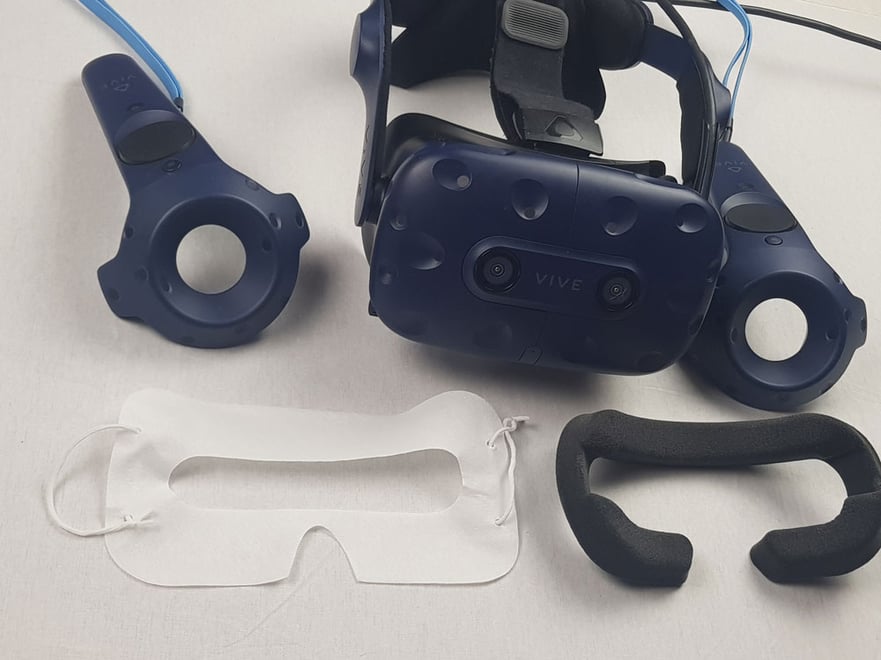 Why is it so important to keep your VR hardware clean? Even if you're not taking the COVID-19 situation into account, keeping your equipment free of dirt and germs is essential, especially if you share the same HMD or VR goggles with your colleagues. Would you like to get dry sweat, sebum, and bacteria every time you get into a VR session? No, thank you!
This is why we thought of a protocol to safely use VR in your business, whether you have a personal or a professional use of VR equipment:
TechViz is a software company developing VR software for engineers. Our use case covers all sorts of applications relying on visualizing and interacting with CAD models in virtual reality.
WHAT YOU SHOULD DO BEFORE CLEANING YOUR VR HARDWARE
Get yourself the right disinfection equipment for y
our VR hardware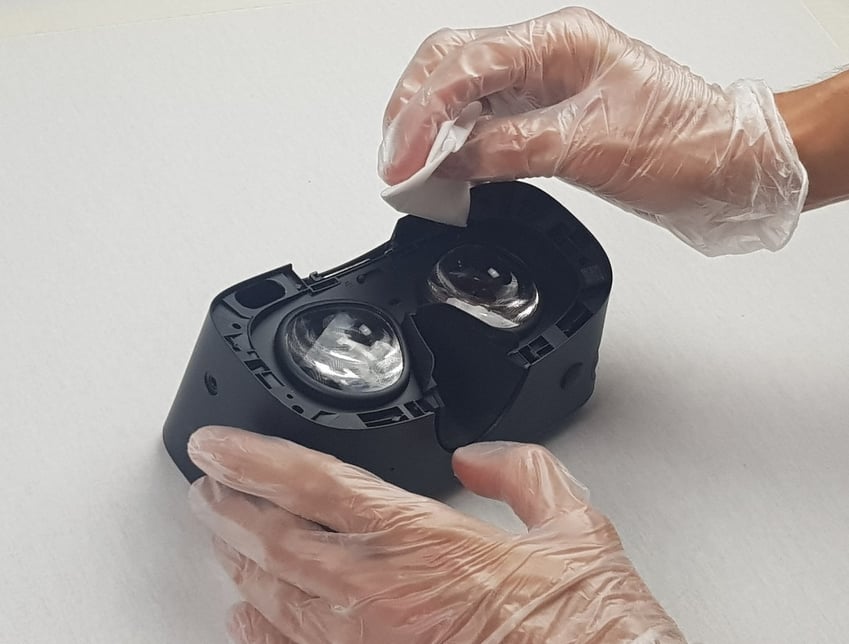 Wear nitrile gloves: it will protect your hands from the products on your cleaning wipes, and prevent the germs and dirt on your hands to get on your VR headset while cleaning
Use non-abrasive antibacterial wipes (preferably without alcohol): it is safe for the VR headset, unless you are using it on the lenses. Non-alcoholic wipes are better because it won't damage the equipment
Use a microfiber cloth: other types of cloth might leave microparts while cleaning your lenses, which can either scratch them or dirtying them even more.
Clean your VR-ready computer before your VR session
First, remember that the mouse and keyboard of your VR-ready computer have most likely been touched by several pairs of hands and (also likely) may not have been cleaned for a while. Research found that a keyboard can be 5 times as filthy as a toilet seat! Just to be safe, do some spring-cleaning and periodically sanitize your mouse and keyboard:
Unplug the keyboard and mouse if necessary or turn them off, and remove any batteries
Tilt the keyboard upside down and shake it to remove loose debris (keep the screen open with your other hand if it's a laptop)
Turn the mouse upside down and roll the scroll wheel to dislodge anything stuck inside
Dip a cotton swab in rubbing alcohol and brush it in the area surrounding each key (don't use too strong stuff to avoid discoloring your keys or remove your lettering).
Use a cloth you in the isopropyl alcohol to clean the surfaces of the keys, and wipe your mouse
Use a dry, lint-free cloth to remove dust and polish the keyboard, same with the mouse
If you keep your PC hardware regularly clean, a simple wipe with a non-abrasive wipe and soap-washed hands are enough to work safely.
Before you use your HMD, make sure you replaced the manufacturer's foam interface and cleaned the new one, because you can't know if there isn't junk or germs inside. In any cases, wash your hands and face with soap before wearing it (check the WHO recommendations).
HOW TO KEEP YOUR VR HEADSET CLEAN WHEN USING IT?
10 steps to use your VR headset safely and cleanly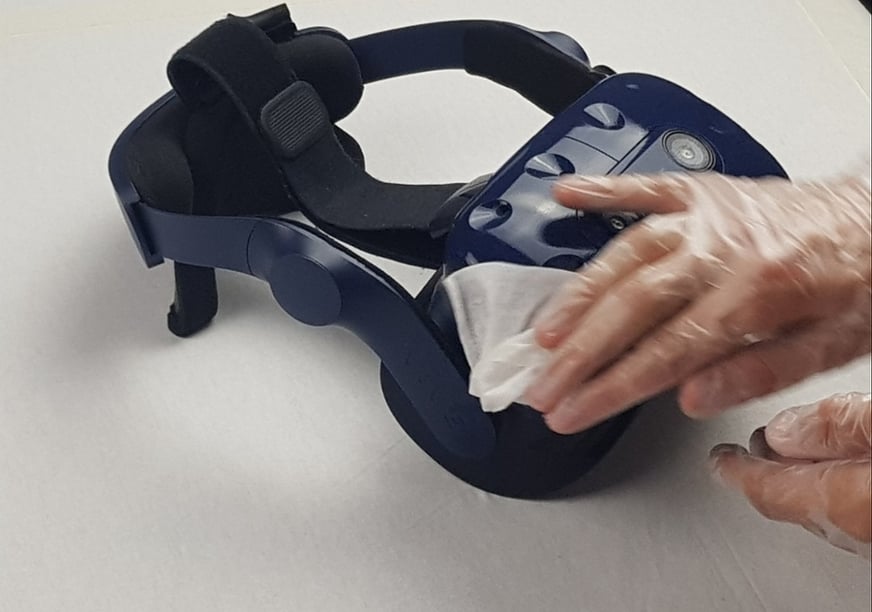 Wear nitrile gloves before manipulating the VR headset
Take-off the VR headset removable parts: disassemble the facial interface and nose guard, in order to reach the crevices in the equipment, as well as where the part snaps in
Use a microfiber cloth for the lenses: make gentle circles from inside to the outside, because lenses can scratch easily
Use a non-abrasive antibacterial wipe (alcohol-free) for the inside of the HMD: make sure to wipe the inside as well as where the foam is fixed, but avoid the lenses
Use a non-abrasive antibacterial wipe for the outside of the HMD: it is safe because it will leave no residue and get rid of most of the dust, dry skin cells, sebum, and germs you left on it.
Dry everything with a clean microfiber cloth: it will help you remove leftover residue from the products you use
Use the same process for the facial interface, nose guard and straps
Use the same process for VR controllers
Reassemble your headset: now that all the parts of the headset are clean and dry, you can put them back, remove your gloves and start your VR session.
Remember to keep your hands and face clean: People tend to sweat while using VR headsets, leaving sebum, dead skin cells, dust, and makeup behind them. Not the kind of things you want to share between colleagues, right? So, wash your face and hands with soap between uses.
Some more advices to keep your HMD clean between two uses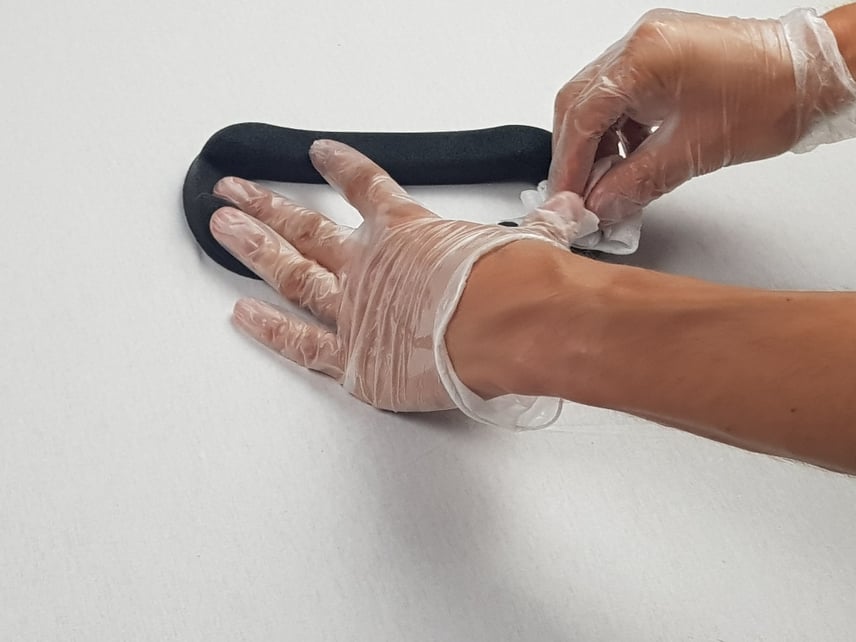 To avoid transmitting grime or germs to your colleagues, we suggest that your facial interfaces to either be replaceable foam or have an easy-to-clean surface like PU leather. Why? Because PU leather interfaces are easier to keep clean in the long run than foam interfaces that get dirty easier.
Wearing a disposable mask inside the HMD is also a solution that prevents direct skin contact between the user and the facial interface. However, there are some risks that they move around while using your headset and distract you.
HOW TO KEEP YOUR IMMERSIVE ROOM OR POWERWALL CLEAN?
7 steps to use your PowerWall or immersive room safely and cleanly
This cleaning guide works for all projection-based VR system (using 3D googles):
Wear nitrile gloves before manipulating your VR googles and controllers
If possible, dismantle the 3D googles: most specifically the branches and the tracking target
Use a non-abrasive antibacterial wipe (alcohol-free) to clean the inside of the goggles, the nose guard and the sides of the glasses
Use a clean microfiber cloth to dry the different parts
Sanitize your controller using the same method: non-abrasive antibacterial wipe (alcohol-free) to clean and microfiber cloth to dry
Reassemble your goggles and take off your gloves: now that all the parts of the headset are clean and dry, you can reassemble them, remove your gloves and start your VR session.
Remember to keep your hands and face clean: People carry a lot of gunk and germs on their faces. Use soap and water after every use of your VR goggles.
Other solutions you can use to keep your VR hardware germs-free
Ultraviolet lights, or UV radiations, can sanitize your VR hardware in a matter of minutes! Of course, these solutions are quite expensive, and you might want to cover your lenses (unless you want to damage it).
And if you can, quarantine your clean VR headset/googles and controllers 2 or 3 days between uses to keep it free from dust and microbes.
PLEASE NEVER DO THIS WHEN VR HARDWARE CLEANING
Don't use hydroalcoholic solution or solvents (such as acetone) to disinfect your hardware: it could damage the electronics
Don't use any detergents: it will be toxic and/ or irritate your eyes, skin and breathing pathways
Don't use compressed air spray: it doesn't kill viruses (especially not COVID-19) and may project more dirt inside your VR hardware
Don't spit on your lenses to clean them: your saliva is full of germs. Germs are bad. Besides, it leaves traces when drying. Doubly bad.
Don't use paper towels or tissue paper: it contains wood fibers that can damage the lenses/glasses
Don't use abrasive products: just don't. Ever.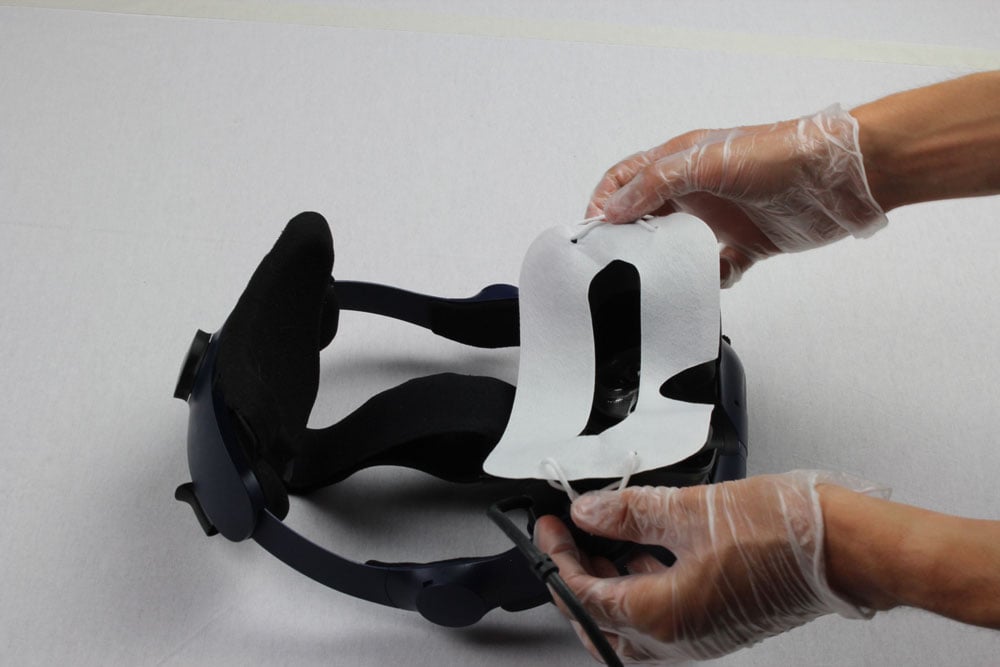 Proper VR hardware hygiene is a best-practice every engineering team should follow for a successful and clean VR experience. We are providing this information to help you with the cleaning and care of the VR system you are using along with TechViz VR display software. If you need to get a better access to this information, we have created guidelines to help you with keeping your VR systems sanitized :
More articles about working with Virtual Reality: