With the recent democratization and availability of VR technology, many companies are racing to adapt Virtual reality (VR) to the workplace. If it may be too late for business to develop a new set of policies for remote work, they can still make the experience productive and engaging for their employees. Especially by giving them the right equipment to keep collaborating competently on their projects.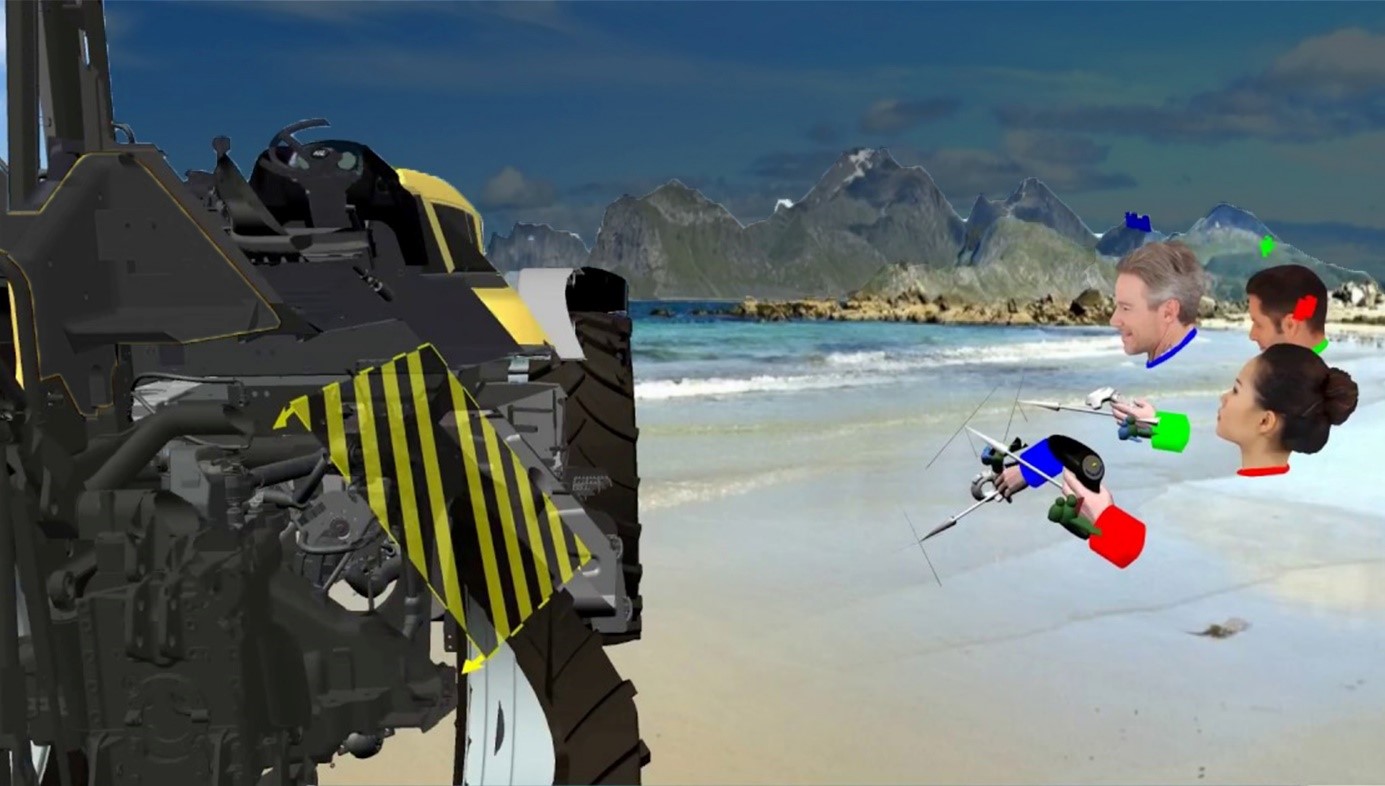 With TechViz Virtual Reality Collaboration, your company can set up a shared virtual workspace for your employees to ensure you keep your competitiveness with remote work.
TABLE OF CONTENT:
HOW DOES VR SUPPORT PRODUCT DEVELOPMENT AND PROJECT MANAGEMENT?
The pandemics of COVID-19 have led to a lock-down of uncharted scale. Many people have to work from home, and business trips are just not an option anymore. The use of videoconferencing applications has soared, but they have a lot of limitations. VR technologies have the potential to fill the gap and make it possible to forge projects ahead and pass the milestones of a normal development cycle.
By holding VR meetings and gathering people around a virtual model or immersed in it, it is possible to better explain technical challenges, approve design proposals, iterate and make decisions. In a nutshell, team work is highly enhanced
Techviz VR software enables teams to work simultaneously in the same VR environment, with any 3D application (SolidWorks, Navisworks, Creo, Catia…) and on any VR display system, from any location.
HOW TO USE VIRTUAL REALITY COLLABORATION TO MAKE REMOTE WORK MORE EFFICIENT?
Companies that are not early-adopters of VR technologies may feel ill-equipped to meet with their business expectations. There's a gap between what they want to do remotely, and making VR-based working sessions a reality. To keep the same quality of work, without meeting physically, here's three key area you should focus on:
1.
Equip your employees with the right equipment
Make sure your employees have all the technology they need for a session of Virtual Reality collaboration, which will be more than just a mobile phone or a laptop. Here is what you need to get your employees started with VR:
A decent internet connection: the bandwidth required for Virtual Reality collaboration is not insane, as only the coordinates and actions are exchanged, but the connection needs to be stable for a smooth experience
Some space: they will need to make sure they have enough space to move around and avoid knocking objects down or getting hurt
A VR-ready computer: you must be certain the PC your employees are using are powerful enough to run the software you require
A VR headset and potentially external tracking devices (if required)
There are many VR system available on the market, but choosing the right equipment will be crucial for your collaboration. Even if you don't work with large-scale CAD models, we recommend that you use tethered headsets designed for use with a desktop computer like Oculus Rift or HTC Vive. Tethered Head-Mounted Devices are the more expensive than smartphone-powered HMDs or standalone devices, but they offer more possibilities.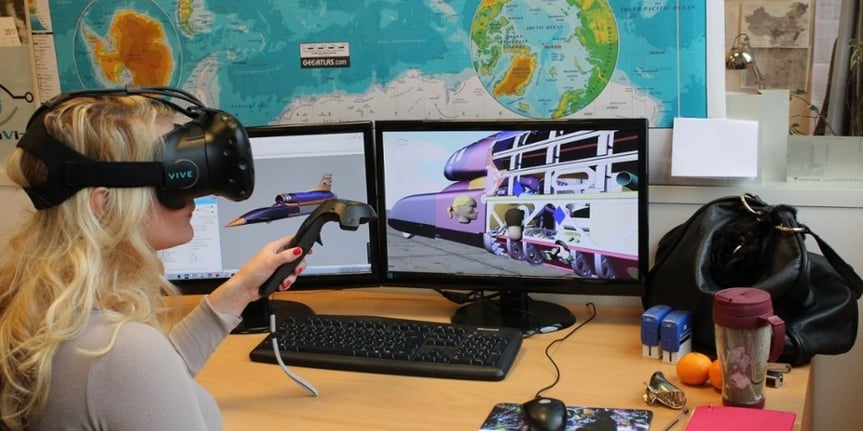 2.
Prepare your employees for Virtual Reality Collaboration
Most of your employees will be unfamiliar or uncomfortable with using VR technology (if you haven't used it in your process before). They must know exactly what to do once they are immersed in the virtual environment, which button to press, etc. Don't hesitate to make your employee read a training guide before entering VR explaining:
How the features work
What the different buttons are for
How to navigate around the VR environment
3.
Look for the right solutions on the market
Your employees now have the right PC system to work with an HMD and run the software you need for the VR session. Next step is to find a VR software that will and offers you the right features to work efficiently on your projects.
TechViz software enables easy adoption of VR by your teams. TechViz interface is very user-friendly and is adapted to non-experts in 3D design. A new user can effortlessly learn how to make a complete project review. A lot of VR tools and features are available to tailor your VR experience to the processes of your industry.
Here's how you can display instantaneously display your CAD models in VR with Techviz software:
7 INDUSTRIAL SECTORS THAT USE VIRTUAL REALITY TO COLLABORATE REMOTELY
VR in engineering can be used across many industries and optimize business processes from design to market.
1.
Aerospace and Aeronautics
Modelling and VR simulations enhance collaborative work and enables workers to interact with aircraft CAD models from anywhere. This can help to prevent problems from occurring in the assembly stage by easily involving the experts that worked on the design and engineering step.
2.
Automotive industry
Collaborative VR meetings are an opportunity to enable engineers to work on car design from any remote site, while keeping sensitive data secure.
3.
Construction and Architecture
Over the life of a construction project, many AEC business need to work on the same 3D models and exchange information. VR helps the stakeholders collaborate efficiently in the same environment.
4.
Energy
The energy sector entails many complex processes and the use of heavy machinery. Nuclear plant workers already use remote VR simulation to train their workers for any possibilities.
5.
Manufacturing Industry
The manufacturing process is very "place-dependent". However, some steps like design and engineering can be done remotely with the use of VR technologies, as well as some other use case regarding the manufacturing line.
6.
Military and defense
This sector heavily relies on cross-department collaboration and real-time data sharing with all the team members. VR is a solution that offers virtual workspaces to promote military collaboration in a secure environment.
7.
Pharmaceutical Industry
VR is already present in this sector to visualize and virtually explore the human body at the molecular level. In this use case, VR allows the people to keep working on their project from their homes.
8.
Research and Education
Virtual reality immerses students and searchers in real-like representation of their 3D data, to help them engage better with the material and support innovative breakthroughs with a fully immersive virtual reality experience.
Teamwork is a crucial challenge for global firms with departments or subsidiaries spread all over the world – or when remote work becomes a necessity. TechViz has developed its virtual reality collaboration feature, creating a shared virtual workspace connecting several sites around a same 3D project.
More articles about working with Virtual Reality: